If you've made it this far, you probably want to know what JBS, Nestlé, Ambev and Kellogg's have in common besides leading the market within the food industry?
Well, we can say that they were all guided by quality when choosing lighting equipment for their production lines.
If you are from the food industry, you have probably already read our other content commenting on the impacts and benefits of using it in industrial processes in this segment. In addition to the impact of LED lighting on food safety, it offers brighter lighting, which allows problems such as contamination and quality to be quickly identified.
And also the relationship between LED lighting and sustainability, as it has lower energy consumption and greater durability, reducing the need for frequent lamp changes.
However, today we will focus on the biggest challenges facing the food industry when it comes to lighting, such as temperature, humidity, cleanliness and regulations.
Choosing equipment that is not suitable for these conditions can generate significant costs for the entire operation.
But first, let's look at some important data from the segment across Latin America.

Food industry data 
The food and beverage sector is responsible for around 9% of Latin America's GDP (Gross Domestic Product).
Brazil is the largest food producer in the region, followed by Mexico and Argentina.
The food industry employs more than 10 million people in Latin America.
Beef is one of the region's main exports, along with soybeans, corn, coffee and sugar.
Latin America is a major producer of fruits, such as bananas, oranges, pineapple and grapes, as well as agricultural products such as rice, beans and wheat.
The processed food industry has grown in the region, as has the demand for organic and healthy foods.
Food safety is an important issue in Latin America, with many countries working to improve hygiene standards and regulation of the food and beverage sector.

Main sectors 
In the food industry segment, we can highlight the main sectors and some players, such as: 
Meat processing: This sector includes the production of beef, pork, poultry and other types of meat. It is a large and important sector, with world-leading companies such as JBS, Tyson Foods and Smithfield Foods.
Dairy processing: This sector includes the production of milk, cheese, yogurt, butter and other dairy products. It is an important global sector, with companies such as Nestlé, Danone and Fonterra leading the market.
Grain processing: This sector includes the production of grain-based foods such as bread, pasta, cereals and snacks. It is a large and diverse sector, with world-leading companies such as Kellogg's, General Mills and Kraft Foods.
Beverages: This sector includes the production of alcoholic and non-alcoholic beverages, such as soft drinks, juices, beers and wines. It is an important global sector, with world-leading companies such as Coca-Cola, PepsiCo and InBev.
Frozen products: This sector includes the production of frozen foods such as vegetables, fruits, meats, ready meals and desserts. It is a large and growing sector, with world-leading companies such as Nestlé, Unilever and McCain Foods.
Processed foods: This sector includes the production of processed foods, such as soups, sauces, snacks and ready-to-eat foods. It is a large and diverse sector, with world-leading companies such as Nestlé and Kraft Foods                  
All these major players within their processes encounter challenges when it comes to lighting, which requires great technical responsibility when choosing the correct equipment. Because they directly interfere with issues related to regulations and food safety.

The main challenges of the food industry sectors.
In general, we can mention 6 challenges related to lighting that are characteristic of the food industry, regardless of the product niche you are likely to encounter.
Humidity: Some processes face challenges related to humidity, as moisture can cause damage to lamps and electrical equipment.
Cleaning: Lighting in industry needs to be cleaned regularly to maintain hygiene and food safety standards. However, cleaning can be difficult in hard-to-reach areas or lighting fixtures that are not designed to be cleaned easily.
Regulations: There are specific and strict standards for lighting in the food industry, including electrical safety, hygiene and temperature control requirements. The choice of lighting must be made taking into account all these standards and regulations.
Work environment: Lighting conditions can affect the work environment and employee productivity. Adequate lighting is necessary to ensure a safe and comfortable working environment.
Production environment: The food industry has unique production environments, such as industrial kitchens and cold storage areas, which present unique lighting challenges. Lighting must be designed to meet the specific needs of each environment.
Costs: Cost is always an important consideration in any industry. The choice of lighting must be made taking into account initial and operational costs, as well as the useful life of the chosen lighting.
However, when we look at the individual production process of each sector we can further highlight the need for special equipment for each area. For example: meat processing, beverages, dairy and bakery sectors.
We brought an illustrated example from the meat processing sector, which specifies the appropriate equipment for each area of ​​the process, which is linked to the specific need in relation to cleaning, constant washing and low temperatures.
In this case, the choice of equipment is linked to its construction characteristics such as IP, IK, and the material of your own body.
So that you can understand a little more about it, see the article and understand the concepts of IP and IK.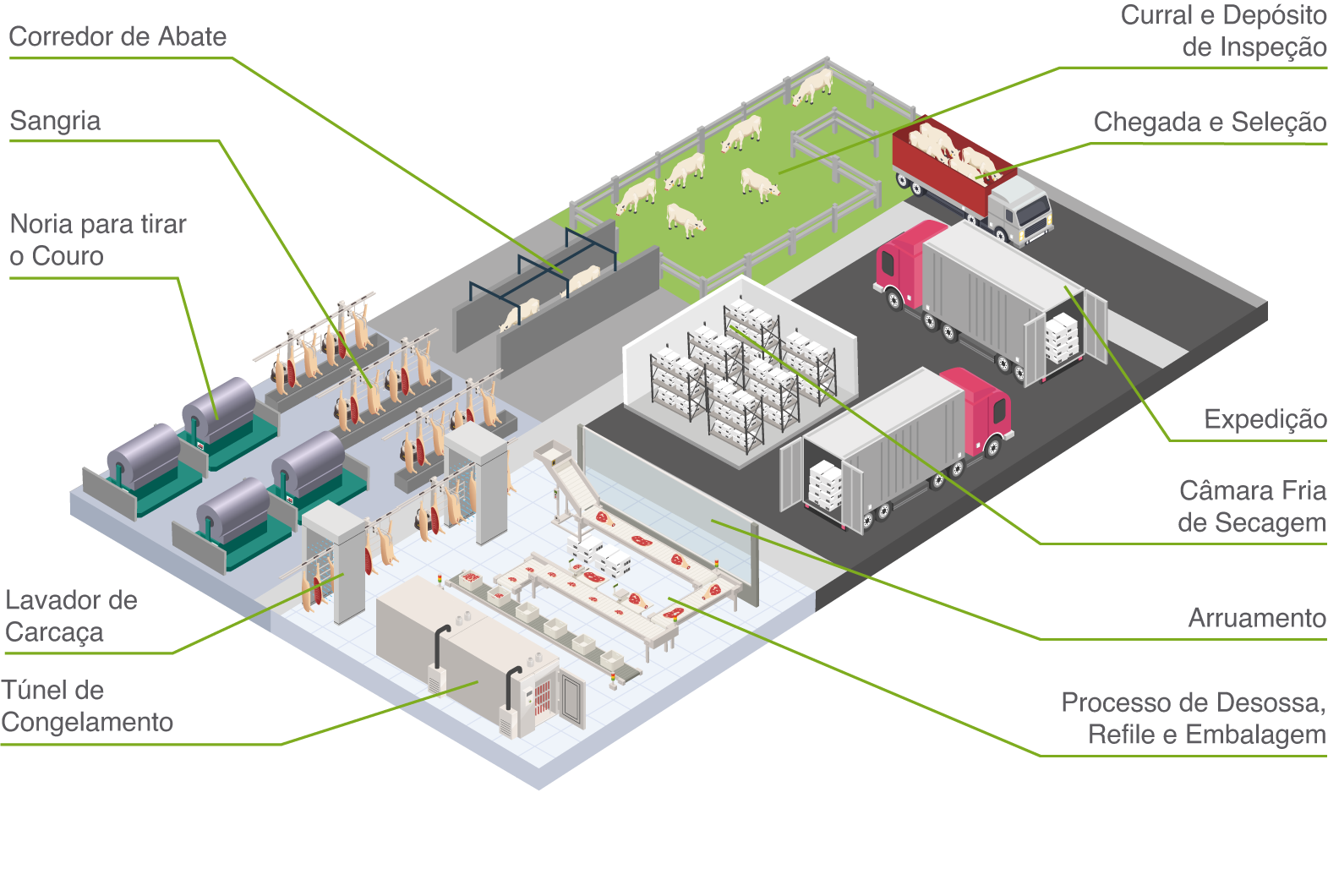 Checking ✅ all requirements is easy when the choice of equipment is guided by the quality of the product.
It will certainly guarantee a long useful life of the equipment, even if exposed to aggressive production processes typical of the industry, reducing maintenance costs, providing greater safety, guaranteeing compliance with all the standards required in the sector.

Do you want to know which solution best suits your process?

Click here and speak to an expert